A Christmas Story
By Philip Grecian
Directed by Karen Hendley & Judy Faye Garner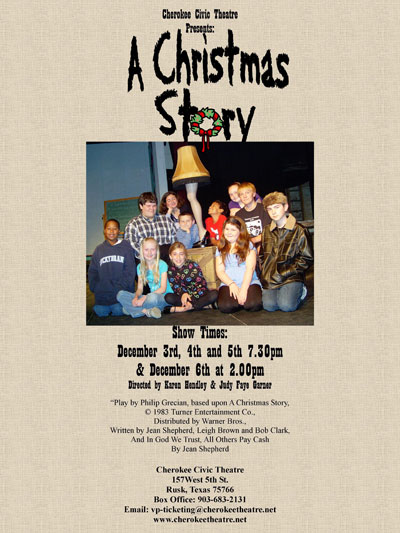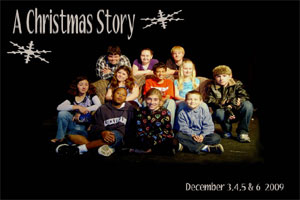 The play is set in the city of Hammond, Indiana during the 1940's. Nine-year-old Ralphie Parker (played by Trae Gunter) wants only one thing for Christmas: "an official Red Ryder carbine-action 200-shot range model air rifle with a compass in the stock, and this thing which tells time". Between run-ins with his younger brother Randy (Nicholas McCalister) and having to handle school bully Scut Farkus (Tristin Kelley), Ralphie does not know how he will ever survive long enough to get the BB gun for Christmas.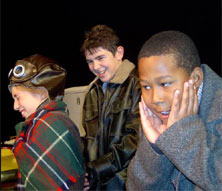 The plot revolves around Ralphie's overcoming a seemingly insurmountable obstacle to his owning the precious Red Ryder BB gun: his mother's fear that he will shoot his eye out. In each of the play's three acts Ralphie makes his case to another adult and each time he is told the same thing. When Ralphie asks his mother (played by Sommer May) for a Red Ryder BB gun for Christmas, she says, "No, you'll shoot your eye out". Next, when Ralphie writes an essay about wanting the BB gun for Miss Shields, (Moira Debbs) his teacher at Warren G. Harding Elementary School, Ralphie gets a C+, and Miss Shields writes, "P.S. You'll shoot your eye out", on it. Finally, Ralphie asks an obnoxious department store Santa Claus (voice by Jon Paul Kelley) for a Red Ryder BB gun, and Santa responds, "You'll shoot your eye out, kid. Merry Christmas! Ho, ho, ho"! before pushing Ralphie down a long slide with his boot.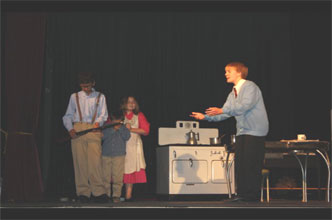 From The Cherokeean.com dated 10–14–2009

Theatre's Christmas production
Cast members for the Cherokee Civic Theatre's upcoming winter musical, A Christmas Story has been announced by Karen Hendley and Judy Faye Garner, co-directors.

The part of Ralphie was awarded to James Burns*, Alex Baker will play "Ralph", the "mother" will be portrayed by Sommer May, Mark Becker will be "The Old Man", Nicholas McCalister will play the part of "Randy", "Miss Shields" will be acted by Moira Debbs, Trae Gunter will be "Flick"*, the part of "Schwartz" has been awarded to Mika Funches, "Esther Jane" will be portrayed by Sydney Garcia, Zoe Ruben will be "Helen", and Tristin Kelley will play the part of "Scut Farkas".

Humorist Jean Shepherd's memoir of growing up in the Midwest in the 1940s follows nine-year-old Ralphie Parker in his quest to get a genuine Red Ryder BB gun under the tree for Christmas. He runs into opposition from his parents, his teacher and even Santa Claus.

A Christmas Story is slated for Dec. 3-6, at the historic Cherokee Theater, 157 W. 5th Street in Rusk. For further information, call (903) 683-2131 or visit their web site: www.cherokeetheatre.net. * Prior to the start of rehersals, James Burns had to bow out of the production due to unforseen circumstances, and Trae Gunter stepped up to play the part of Ralphie; Ashlen Richards took over the part of Flick.
From The Cherokeean.com dated 11–18–2009
Cast of A Christmas Story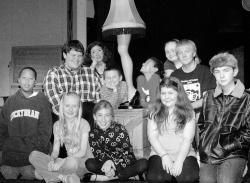 Just in time for Christmas, these Cherokee Civic Theatre show cast and crew members of "A Christmas Story" are selling tickets for two raffles. In honor of "A Christmas Story" they are selling raffle tickets for the Leg Lamp and an official Red Ryder BB Gun. Raffle tickets will be on sale for three tickets for $5 until Sunday, December 6. The winning tickets will be drawn during the final performance of "A Christmas Story". The production will be presented at 7:30 p.m. Dec. 3-5 and at 2 p.m. Dec. 6. Judy Faye Garner and Karen Hendley are directors. For more information call (903) 683-2131.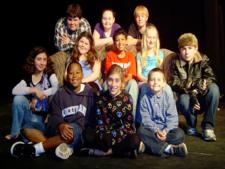 Cherokee Civic Theatre ~ 157 West 5th Street ~ Rusk, Texas 75785