UPCOMING AUDITIONS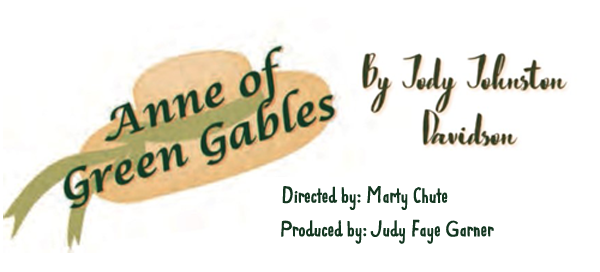 Auditions: Saturday, January 6th at 10 am & Monday, January 8th at 6pm
The play is based on the beloved childhood classic by L. M. Montgomery & adapted by Jody Johnston Davidson. Set in the late 19th century, the novel recounts the adventures of an 11 year old orphan girl, Annne, sent by mistake to two middle-aged siblings who had originally intended to adopt a boy to help them on their farm. The story will tell how Anne makes her way through life on the farm, in school, and within the town.
The cast needs:
1 adult male (40+)
1 young teen male (12-15)
5 adult females (25+)
2 adult females (40+)
2 young teen females able to play ages 12-13
Several non-speaking roles for young teens (ages 12-14)

The auditions will be cold readings from the script.
Performance dates: March 1st & 2nd at 7:30pm and March 3rd at 2:00pm

Cherokee Civic Theatre ~ 157 West 5th Street ~ Rusk, Texas 75785
Upcoming Shows :: Tickets :: Education :: TNT Camp :: News/Events :: Board Members :: Membership :: History :: Archives :: Contact Us :: Home