The Story of Cherokee Civic Theatre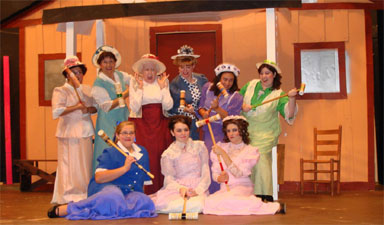 Little Mary Sunshine (2009)
Once upon a time (1972), Zula Hol­comb Pearson, head of the Lon Morris Col­lege Drama Department for 40 years, retired to her hometown of Rusk, Texas. At the request of the Rusk Chamber of Commerce Tourism Committee, Mrs. Pearson wrote and directed a local dinner theatre production that was presented in conjunction with the Indian Summer Arts and Crafts Fair.

The success of this production inspired a group of Rusk citizens to hold an open meeting in March 1973 to consider forming a community theatre. The group named itself "Cherokee Civic Theatre" to represent all of Cherokee County. The first production of the new theatre group was "Barefoot in the Park", presented in July.

With no permanent home, Cherokee Civic Theatre productions during the next two years were held in the Rusk Junior High School Auditorium, the Footbridge Park, the Cherokee County District Court Room, the New Southern Motor Hotel dining room, the First United Methodist Church Fellowship Hall and the Rusk State Railroad Park Theatre. Sitting vacant in Rusk was the Cherokee movie theatre building, built in 1946 and formerly a vibrant "hot spot" for local citizens. With the assistance of James I. Perkins and other Rusk citizens, arrangements were made with the owner of the building, Gulf States Theatre, Inc. to donate the building to the Volunteer Council of Rusk State Hospital, Inc. in 1974.

In January 1975, the Volunteer Council agreed to sell the building to Rusk Civic Services, Inc., the forerunner of the Cherokee Civic Theatre organization, for $20,000. Arrangements were made for a $5,000 down pay­ment, and payments of $1,000 for 15 years, with no interest on the loan. After the original arrangements were made to take over the loan and basic renovations were made, the Cherokee Civic Theatre group used the historic building to present their plays starting in 1975 with "Cactus Flower.".

In 1982, Cherokee Civic Theatre, Inc. was designated as a non-profit organization. On November 27 1989, the building purchase loan was joyfully paid. Now that the building was truly CCT's, the theater underwent a dramatic refurbishing in 1991. The interior was decorated and a grand curtain was installed on stage. The tastefully decorated 260 seat theatre has become known as a "Jew­el in East Texas".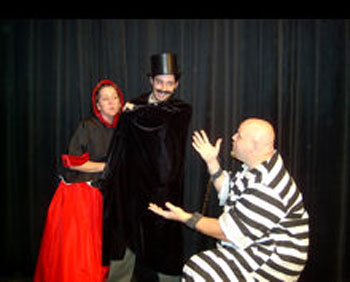 Dirty Work at The Crossroads (2007)
In 2004, the refurbishment loan was paid off and a campaign of major physical improvements to the building resulting in the replacement of the stage light and sound systems. The improvements campaign continues with the Theater Annex (combination dressing room, make-up room, costume/set shop, green room & restrooms) as its next target. Proceeds from shows, season ticket memberships and donations from well wishers help keep our "jewel polished" and growing.
We're glad you've visited our website, and hope you'll join us to experience the thrill of live theater at the Cherokee Civic Theatre!

Cherokee Civic Theatre ~ 157 West 5th Street ~ Rusk, Texas 75785
Upcoming Shows :: Auditions :: Tickets :: Education :: TNT Camp :: News/Events :: Board Members :: Membership :: Archives :: Contact Us :: Home