Jack the Ripper: Monster of Whitechapel
by Joe Dickinson
Co-Directed by Josie Fox and Brittany Lankford
A comical but scary treatment of the serial killer who terrorized London in the 1800's. Many of the characters and events are taken right from history, but others are pure comic invention, such as Pegeen Macdougal, a practitioner of white magic, and her "familiar", Hogarth, who speaks only in cookbook terms.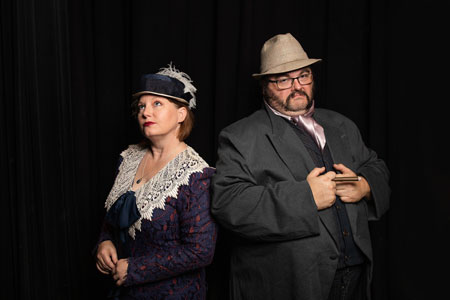 Excerpt from the Cherokeean Herald September 18, 2019.... Josie Fox said "It's been great fun working with cast and crew on this interestingly historic play. The neatest thing, I think, is the audience interaction – the audience will get to 'solve' the mystery of who is Jack the Ripper? So there could, conceivably, be a different ending to this show every night! I think everyone's going to have a blast trying to figure it out!"
Performances:
Friday, September 27th - 7:30pm
Saturday, September 28th -7:30pm
Saturday, October 5th - 7:30pm
Sunday, October 6th - 2:00pm

Cast:

Mrs. Dobbs - Brittany Lankford
Polly Poole - Debra Petri
Ernestine Pankhurst - Amy McCalister
Dr. Forbes Winslow - Eddie Breen
William, Duke of Clarence - John Bradshaw
Sir Charles Warren - John Earle
Angela Ellison - Abigail McCalister
Officer O'Connell - Alec Christiansen
Phillip Poole - Homer Berry
Pegeen Laszlo MacDougal - Kayla Christiansen
Hogarth - Ryan Petri
Boogeyman - Corey Folmsnbee
Anne, Kate, Anne - Kendal Pharis

Cherokee Civic Theatre ~ 157 West 5th Street ~ Rusk, Texas 75785