Become a Cherokee Civic Theatre Season Member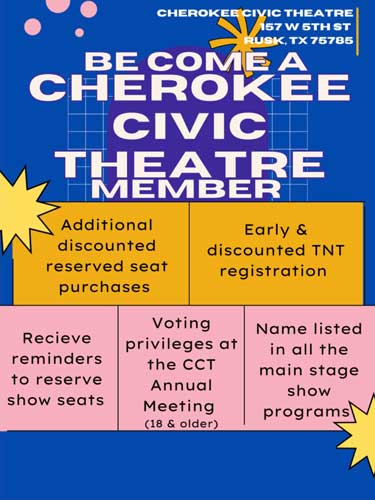 Only CCT Season Members are guaranteed their choice of reserved seats for every one of our four Main Stage shows. We've had sell-out performances before and hope to have more this Season! Why be left without a seat?
At CCT, with MEMBERSHIP comes PRIVILEGES!
If you are looking for an entertaining way to enjoy AND support the arts in East Texas, we'd like to extend you an invitation to become a Member for our upcoming Season.
Links are provided below for ease in payment on-line for the level you prefer or you can go to the mail-in form at Become a CCT Member!
Please make checks payable to Cherokee Civic Theatre. Need more information? Call 903-683-2131 or email: membership@cherokeetheatre.net.
We'd love to see you at the show!
Cherokee Civic Theatre is a 501(c)3 non-profit corporation so all donations made to CCT are tax-deductible according to the appropriate IRS statues.
GET INVOLVED!
TNT is always looking for volunteer staff as well. For more information on participating in TNT as director, counselor or aide, please contact us at tnt@cherokeetheatre.net or by calling CCT (903-683-2131) today!

The low registration cost and availability of scholarships in our Thespians N Training are possible because of our incredibly generous and supportive TNT Underwriters and volunteer Staff. If you would like to become a TNT Underwriter (contributions can be tax deductible!), please contact us at tnt@cherokeetheatre.net or by calling CCT at 903-683-2131. Underwriters of $100 or more are listed on the official camp T-shirt! Underwriter / Sponsor Form
Support CCT When You Shop on Amazon!

Cherokee Civic Theatre ~ 157 West 5th Street ~ Rusk, Texas 75785
Upcoming Shows :: Auditions :: Tickets :: Education :: TNT Camp :: News/Events :: Board Members :: History :: Archives :: Contact Us :: Home