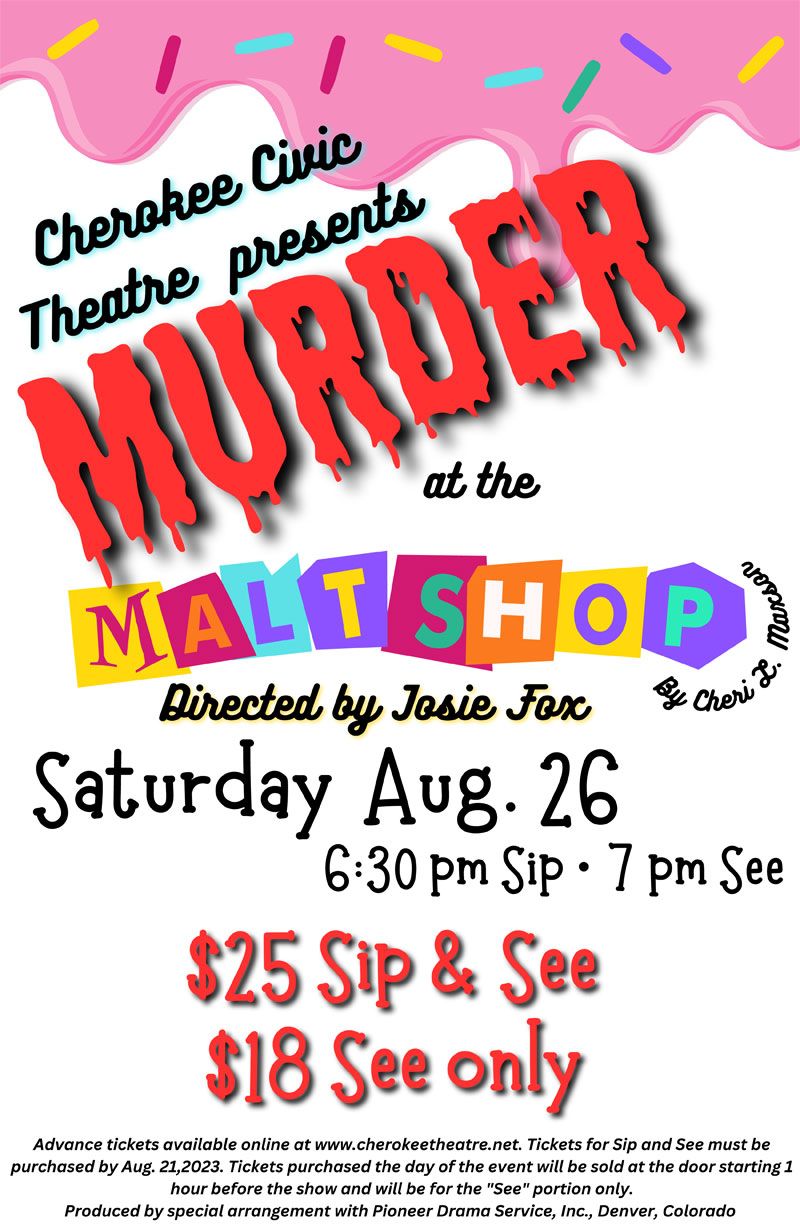 Directed by Josie Fox

Production Date - August 26, 2023

Congratulations to our upcoming cast of "Murder at the Malt Shop":
Hedda Fuller Eyre - Amy McCalister
Sheriff Colin Allcars - Nicholas McCalister
Jerry Arrick - Stephen Fishman
Norma Dreadful - Debra Petri
Doe Ramey - Grace Veitch
Ginger Vitus - Minette Bryant
Doc Dusenburg - Pam Anderson
Squinty Peepers - Tony Williams
Dee Lighted - Katie Petri
Bobbie Pinz - Jessica Smith
Jim Shorts - Luke Petri
Shirley Knott - Heather Matthews
Wynn Fairly - Kylaney Breen
Holly Wood - Abigail McCalister
Russell Sprout - Lucas Everett
Noah Count - Eli Adair

Crew - John Earle & Lydia Earle
If you think the character names are hilarious, wait until you see the show!

Mark your calendars to solve the mystery on Saturday, August 26th at the Sip & See!

Box office hours Aug 24 & 25 3-5.

Cherokee Civic Theatre ~ 157 West 5th Street ~ Rusk, Texas 75785
Auditions :: Tickets :: Education :: TNT Camp :: News/Events :: Board Members :: Membership :: History :: Archives :: Contact Us :: Home