Noises Off
By Michael Frayn
Director Laura Cunningham
Producer Judy Faye Garner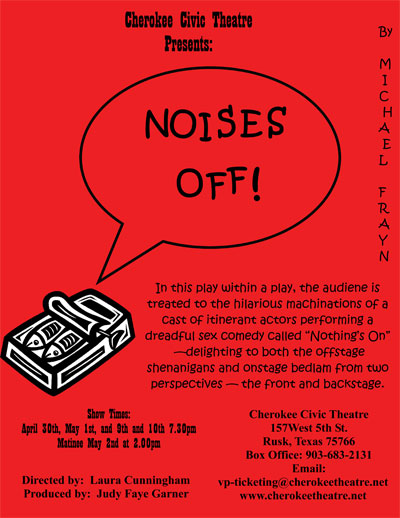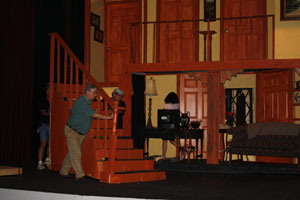 In his plot for Noises Off, Frayn plays on the concept of a play within a play, in this case a dreadfully risque comedy titled Nothing On which is set in "a delightful 16th-century posset mill" that has been converted to a modern rental dwelling. Each of the three acts of Noises Off contains a performance of the first act of Nothing On.
In Act Three, we see a performance near the end of the ten–week run, when personal friction has continued to increase and everyone is bored and anxious to be done with the play. The actors attempt to cover up a series of mishaps but only compound the problems and draw attention to the bungling performance.

Show dates were April (2010) 30, May 1, 7, & 13, at 7:30PM and May 2 at 2:00 PM.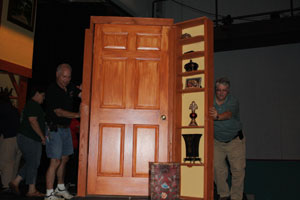 Act One is set at the dress rehearsal, the night before opening, with the cast still fumbling with entrances and exits, missed cues, misspoken lines, and bothersome props, most notably several plates of sardines.

Act Two portrays a matinee performance one month later. In this act, the play is seen from backstage, providing a view that reveals the deteriorating personal relationships among the cast that have led to offstage shenanigans and onstage bedlam. The play falls into turmoil and disorder before the curtain is pulled.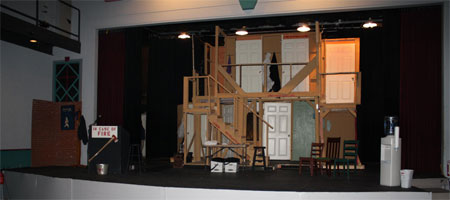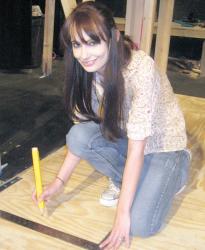 From The Cherokeean.com dated 4–21–2010
Jessica Breen Ford

Jessica Breen–Ford is the designer of this elaborate moveable set for the upcoming Cherokee Civic Theatre production of "Noises Off". Ms. Breen–Ford is a "Jack-Of-All-Trades" and excellent at each. Her credits include director of "The Diary of Anne Frank", choreographer of last year?s production of "Brigadoon", and character parts in several productions. She stars as Poppy Norton-Taylor in "Noises Off", which will be presented Friday through Sunday, April 30, May 1-2; and Friday & amp;Saturday, May 7-8.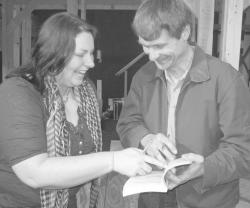 From The Cherokeean.com dated 3–24–2010
Castany Breen and Tim Howell

Castanya Breen and Tim Howell look over the script for Noises Off, the Cherokee Civic Theatre spring production to be presented April 30, May 1-2 and May 7-8. The Daily Telegraph calls it "A comic masterpiece". It?s about a second-rate theatrical troupe preparing to perform a dreadful Broadwaybound play, ""Nothing On"". They butcher the lines, miss cues, forget stage directions, lose contact lenses, all while trying to deal with a set that won?t work right. Show time is 7:30 p.m. on Friday and Saturday nights and 2 p.m. on Sunday. The Saturday, May 1, performance is "pack the house" night. Seating is limited so tickets should be ordered as early as possible. For further information, call (903) 683-2131 or visit their website: www.cherokeetheatre.net.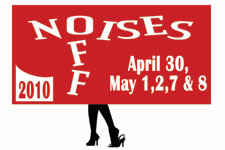 Cherokee Civic Theatre ~ 157 West 5th Street ~ Rusk, Texas 75785