On Golden Pond

By Ernest Thompson
Directed By Don Parsons
Produced By Camille Jones
The plot focuses on aging couple Ethel and Norman Thayer, who spend each summer at their home on a lake called Golden Pond. During the year the story takes place, they are visited by daughter Chelsea with her fiance and his son in tow. The play explores the often turbulent relationship the young woman shared with her father growing up, and the difficulties faced by a couple in the twilight years of a long marriage.

On Golden Pond was performed at the Cherokee Civic Theatre in 2007 on February 23rd, and 24th at 7:03 pm, and a matinee which was held on February 25th at 2:00 pm.

From The Cherokeean.com dated 02–07–2007 Tickets for the Cherokee Civic Theatre production of "On Golden Pond" go on sale at 9 a.m. Monday, Feb. 12 for patrons and 9 a.m. Monday Feb. 19 for the general public. The production is scheduled for 7:30 p.m. Friday and Saturday, Feb. 23-24 and 2 p.m. Feb. 25. The matinee performance will be special for the Cherokee Civic Theatre. It's their second annual Red Hat Sunday. The Alto Chapter has issued an attendance challenge to other Red Hat chapters in the area. Alto won last year with the most members attending the play. All Red Hat Chapters are urged to attend. Also, during this performance, Girl Scout troop 139 will have a special cookie booth set up. During intermission, at approximately 3 p.m., they will sell cookies as refreshments and also by the box.
From The Cherokeean.com dated 02–21–2007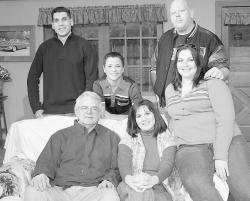 Photo: Penny Reynolds
On Golden Pond, the Cherokee Civic Theatre's upcoming production will be presented at 7:30 p.m. Friday and Saturday, Feb. 23-24 and 2 p.m. Feb. 25 at the theater in downtown Rusk. Cast members include in front from left, Dan Trent, Minette Satterwhite Trent and Castanga George Elledge; in back, T.J. Marquez, Mathew Pyle and PO Ford. The Cherokee Civic Theatre will present "On Golden Pond" at 7:30 p.m. Friday and Saturday, Feb. 23—24 and 2 p.m. Sunday, Feb. 25. Tickets can be purchased at the Cherokee Theater, 116 West 5th Street, Rusk, or call (903) 683–2131. "We have been working long hours to get ready for the opening night," said Director Don Parsons. "I'm so blessed to have such a dedicated cast. Not only do they work hard, they've become family. I know the public will enjoy this play as much as I have enjoyed working with each and every one of the cast members". Even though this is the love story of Norman and Ethel Thayer, the public needs to know that the play is rated PG for some words that had to be left in the story. Cherokee Civic Theatre is a non-profit organization with more than 30 years of dedication to the arts. On Saturday, Feb. 25, members Girl Scout Troop 139 of Rusk and Alto will sell refreshments of Girl Scout cookies, coffee and soda during the intermission of Cherokee Civic Theatre's performance of On Golden Pond . Intermission will be at approximately 3-4 p.m. The troop is raising funds for two overnight camping activities this spring. They are also accepting donations help send cookies to their adopted Army troop in Iraq.
Cherokee Civic Theatre ~ 157 West 5th Street ~ Rusk, Texas 75785