The Diary of Anne Frank
Director Jessica Breen-Ford
Producer Camille Jones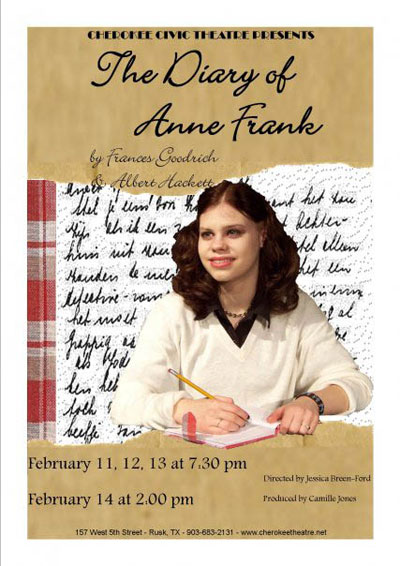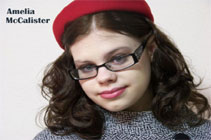 In 1942, a family of Dutch Jews hides in an attic from the Natzis. Just before the war ends they are discovered and sent to concentration camps - an experience recorded in the famous diary of a young girl.

Show dates were February (2010) 11, 12, and 13, at 7:30PM and February 14 at 2:00 PM.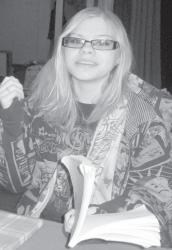 From The Cherokeean.com dated 1–20–2010
Amelia McAlister

Cherokee Civic Theatre in Rusk is in full production mode for its upcoming February play, The Diary of Anne Frank, a true story of a young Jewish girl and her family forced into hiding after the German conquest of Holland, dramatized by Frances Goodrich and Albert Hackett.

Director Jessica Breen–Ford is working to bring the story to life. Cast members are Amelia McCalister as Anne Frank; Mr. and Mrs. Frank are played by TJ and Jessica Marquez; Elizabeth Heidel has been cast as Margot Frank; Bud Breen plays Mr. Kraler; Hayley Childs as Miep Gies; Sheila O?Heaney and Michael Tapia are portraying Mr. and Mrs. Van Daan; Peter Van Daan is played by Matthew Heidel; and Eddie Breen is cast as Mr. Dussell.

The Diary of Anne Frank is a firsthand account of the extremes that the Jews of Europe had to suffer under the persecution of the Nazi regime. The show is scheduled to run at 7 p.m. Thursday – Saturday, Feb. 11–13 and 2 p.m. Sunday, Feb. 14 at the Cherokee Theater in Rusk. For further information, call (903) 683-2131 or visit their website: www.cherokeetheatre.net.
Cherokee Civic Theatre ~ 157 West 5th Street ~ Rusk, Texas 75785