The Philadelphia Story
Directed by Sheilah O'Heaney
Produced by Laura Cunningham
Assistant Director: Haley Gilmore
Director's Apprentice: Liz Heide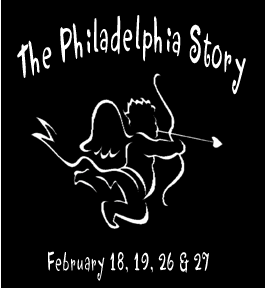 Heiress Tracy Lord is planning a nice quiet wedding to a handsome, wealthy man...until her all-too-charming ex-husband shows up! He's closely followed by an undercover tabloid reporter with a photographer in tow, then her brother with strong sense of mischief and finally her father who may or may not be straying from his wife's side. Will Tracy get the simply beautiful wedding of her dreams? The Philadelphia Story is a classic romantic comedy that became an Academy award-winning movie with Katherine Hepburn, Cary Grant and Jimmy Stewart.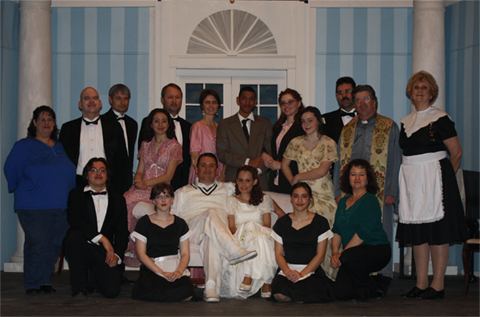 Performances Were: February 18, 19, 26 & 27 (* All were evening performances, except Feb. 27th – Sunday Matinee)
CAST(In Order of Appearance):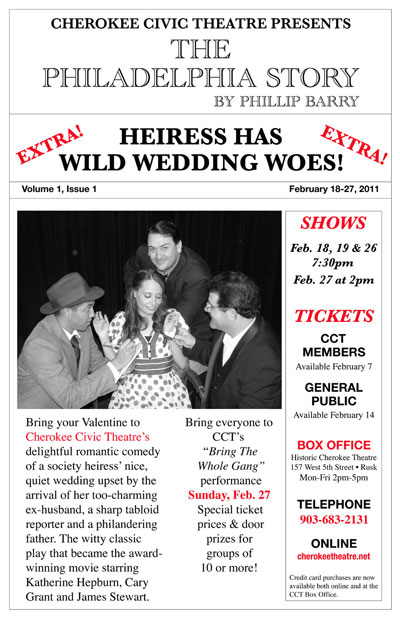 Margaret Lord……Laura Cunningham
Tracy Lord……Jessica Breen–Ford
Dinah Lord (double cast)……Rebekah Heidel & Moira Debbs
Sandy Lord……Eric Loven
Uncle Willie……Tim Howell
Mike Connors……Caleb Summers
Liz Imbrie……Katie Burt
Seth Lord……Anthony Williams
George Kittredge……Corey Folmnsbee
C.K. Dexter Haven……Jon Paul Kelley
Mrs. Thomas……Ann Kelley
Mae……Liz Heidel
Elsie……Shelby Turney
Mac/Dr. Parsons……Michael Young
CREW

Stage Manager……Annette Young
Stage Crew……Mike Roberts, Michael Young, Antony Baker, Rick Erickson
Costume Designer……Haley Gilmore
Costuming Crew……Haley Gilmore, Serena Perez, Ann Kelley, Ellis Hysea, Jessica Breen–Ford, Monica Kelley
Hair Stylist……Macayla Frinsinger
Set Design……Sheilah O'Heaney
Set Construction……Mike Roberts, Matthew Heidel, Tambra Pannell, Antony Baker, Jerry Parker, Ted Debbs, Frances Green, Jeanna Heidel, Julia Rogers, Jon Paul Kelley, Tony Williams, Tom Colkin, Caleb Summers, Jake Lagrone, Moira O'Heaney Debbs, Rebekah Heidel, Lukas Gilmore, Sheilah O'Heaney, Karsyn Cunningham, Laura Cunningham, Tristin Kelley, Liz Heidel, Jeffree Hill, Melinda Roberts, Karen Hendley, Roberta Colkin, Haley Gilmore, Cody House, Annette Young, Michael Young, PO Ford, Jessica Breen–Ford, Ann Kelley
Scenic Painting……Frances Green & Elizabeth Halpain
Floral Arrangements……Jeanna Heidel, Flowers N Things
Piano Construction……Rick Erickson, Jamie Moeser, Dwayne Womack, Antony Baker
Props Coordination……Frances Green
Props Construction……Frances Green, PO Ford
Props Manager……Debra Richards
Dinah's Piano Teacher……David Weaver
Lights……Camille Jones
Lighting Apprentice……James Crump
Sound……Lukas Gilmore
Sound Recordings……Tim Howell
Lobby Décor……Jeannie Plyler
Window Displays……Judy Faye Garner & Patricia Ross
Special Events Coordinators……Karen Hendley & Roberta Colkin
Pre–show Entertainment……The Musical Stylings of David Weaver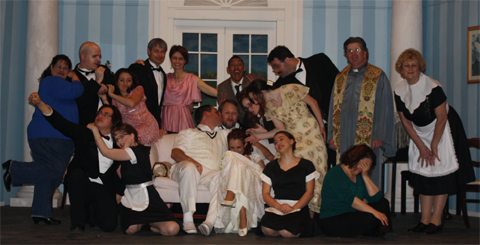 Cherokee Civic Theatre ~ 157 West 5th Street ~ Rusk, Texas 75785