Thespians N Training (TNT)

JOIN US!
Thespians 'N Training (TNT) is Cherokee Civic Theatre's annual theatre arts camp with separate, age-appropriate "troupes" for young people entering Grade 1 through exiting Grade 12. For Registration & Info, click your grade group.




WHAT:
Through a variety of activities, campers will learn about the theatre arts from all aspects onstage, backstage and offstage while improving the skills they may already have. TNT's goals are not only to enhance stage skills but also the cooperation, creativity goal setting that any theatrical production requires.

Each troupe will produce & perform a one-act play that will be presented for family & friends in the TNT Grand Finale Showcase that ends the camp. Our motto is "It's All Good!" and we truly emphasize that concept because we believe everyone has something to contribute.
WHERE:
All TNT camps & performances are held in the historic Cherokee Civic Theater & Annex on 157 West 5th Street in downtown Rusk, Texas.
HOW:
For more information and Registration Forms, click on the buttons above for the grade/troupe(s) you are interested in. Each packet includes a "What You Need to Know" sheet with plenty of details. There are also forms for scholarship and Jr. Counselor
Space in each troupe is limited so registrations are accepted on a first come, first served basis. Sorry, TNT isn't able to accept phone or electronic reservations; all original registration forms must be received by mail or delivery with the appropriate fee before any camper is considered fully registered. Campers will be contacted by phone or email to confirm enrollment.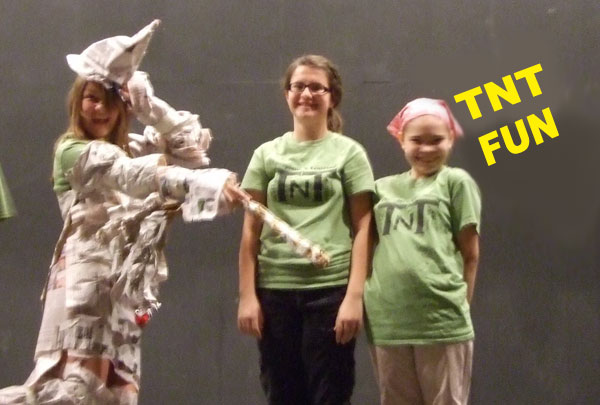 GET INVOLVED!
TNT is always looking for volunteer staff as well. For more information on participating in TNT as director, counselor or aide, please contact us at tnt@cherokeetheatre.net or by calling CCT (903-683-2131) today!

The low registration cost and availability of scholarships in our Thespians N Training are possible because of our incredibly generous and supportive TNT Underwriters and volunteer Staff. If you would like to become a TNT Underwriter (contributions can be tax deductible!), please contact us at tnt@cherokeetheatre.net or by calling CCT at 903-683-2131. Underwriters of $100 or more are listed on the official camp T-shirt! Underwriter / Sponsor Form
Cherokee Civic Theatre ~ 157 West 5th Street ~ Rusk, Texas 75785
Upcoming Shows :: Auditions :: Tickets :: Education :: News/Events :: Board Members :: Membership :: History :: Archives :: Contact Us :: Home