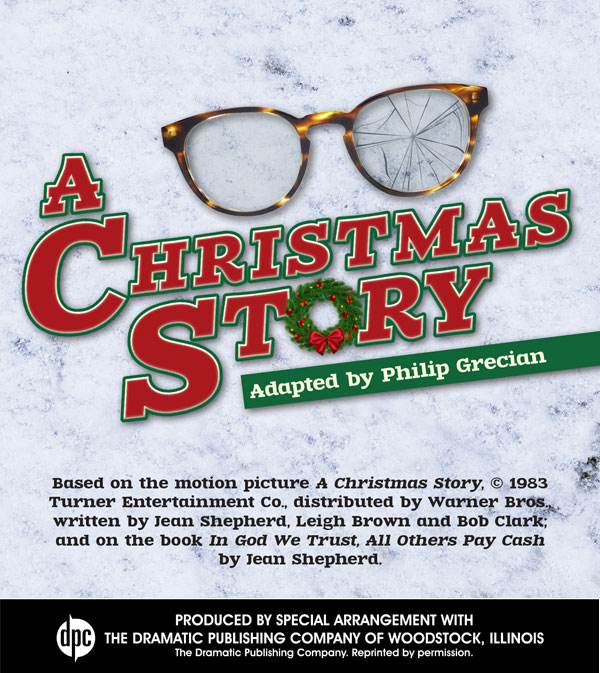 Director Judy Faye Garner
Producer Karen Hendley
A Christmas classic following the wintry exploits of Ralphie Parker who spends most of his time dodging a bully and dreaming of his ideal Christmas gift, a "Red Ryder air rifle". Frequently at odds with his cranky dad but comforted by his doting mother, Ralphie struggles to make it to Christmas Day with his glasses and his hopes intact.
CAST:
RALPH - John Earle
RALPHIE - Brayden Adair
MOTHER - Josie Fox
THE OLD MAN - Tony Williams
RANDY - Matthew Walston
MISS SHIELDS - Sheilah O'Heaney
FLICK - LoLo Dubravsky
SCHWARTZ - Eli Adair
ESTER JANE - Lydia Earle
HELEN - Tessa Hobbs
SCUT FARKAS - Lucas Everett
Show dates are Friday, Dec 10 and Saturday December 11th at 7:30 and Sunday December 12th at 2PM.
There will be limited seating for this show.
We ask that you help us practice minimum standard health protocols during this time.
Buy your tickets early!

PURCHASE TICKETS
All tickets are general seating except for CCT Members who may reserve their seats - one of the many perks of being a CCT Member.
For more information, check out Membership at CCT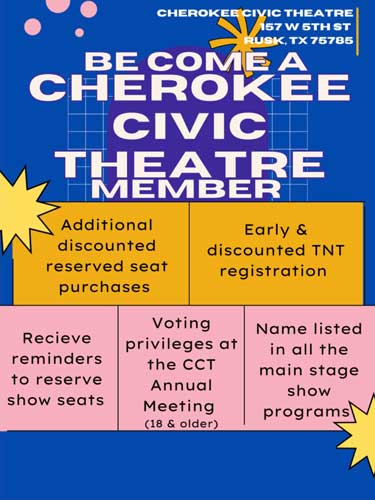 Go to our Membership page for more information.
Tickets will be available at the CCT Box Office located at the historic Cherokee Theatre in downtown Rusk, Texas
or by phone at 903-683-2131.

Cherokee Civic Theatre ~ 157 West 5th Street ~ Rusk, Texas 75785
Auditions :: Tickets :: Education :: TNT Camp :: News/Events :: Board Members :: Membership :: History :: Archives :: Contact Us :: Home