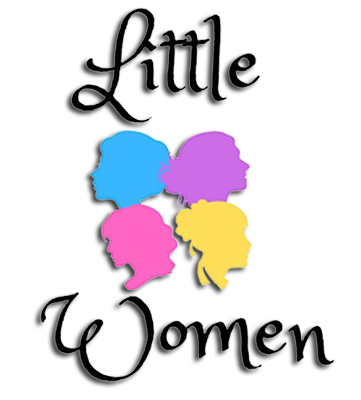 Adapted by Scott Davidson
Directed by Josie Fox
Produced by special arrangement with Pioneer Drama Service, Inc., Denver, Colorado
Share this timeless and enduring classic about the March sisters' journey from childhood to maturity during the American Civil War. Audiences of all generations will enjoy acquainting - or reacquainting - themselves with the sisters: Meg, the eldest; Jo, the high-spirited tomboy; Amy, the self-centered beauty; and gentle Beth, as well as their beloved Marmee and Father. Together the March family learns to endure both good times and bad as they share the joys and pains of growing up.

This adaptation skillfully compresses the novel while still including milestones such as Meg's declaration of independence from the tyranny of Aunt March, Amy's trip to Europe, and even Beth's death.
CAST

Meg ......... McCartney Bryant
Jo ............... Meg Kovacs
Beth .............. Alatheia Hague
Amy .............. Daphne Scantlin
Hannah ............ Janet Barrow
Marmee ............ Minette Bryant
Aunt March ........ Sheilah O'Heaney
Mrs. Gardener ..... Marty Kovacs
Sallie Gardener ... Harley Barrow
Annie Moffat ....... Emery Norman
Belle Moffat ........ Cheyanne Allen
"Laurie" ............. Atticus Belota
John Brooke ........ Dane Trent
Mr. March ........... Roger Bryant
Show dates for are October 8th & 9th at 7:30pm & October 10th at 2pm.
Online ticket sales start September 20th
CCT Box Office Hours October 6th - 8th from 3 - 5 pm
There will be limited seating for this show.
We ask that you help us practice minimum standard health protocols during this time.
Buy your tickets early!

PURCHASE TICKETS
All tickets are general seating except for CCT Members who may reserve their seats - one of the many perks of being a CCT Member.
For more information, check out Membership at CCT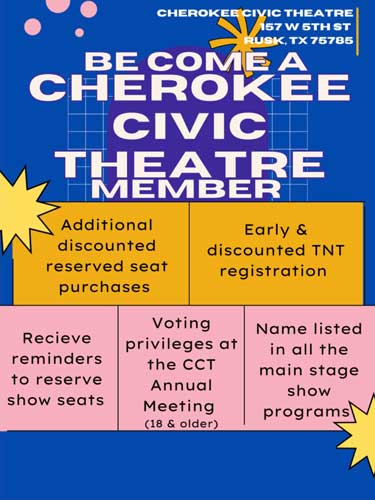 Go to our Membership page for more information.
Tickets will be available at the CCT Box Office located at the historic Cherokee Theatre in downtown Rusk, Texas
or by phone at 903-683-2131.

Cherokee Civic Theatre ~ 157 West 5th Street ~ Rusk, Texas 75785
Auditions :: Tickets :: Education :: TNT Camp :: News/Events :: Board Members :: Membership :: History :: Archives :: Contact Us :: Home